Back to news
2021 Haverst Report – IGP Côtés de Gascogne
26 March 2021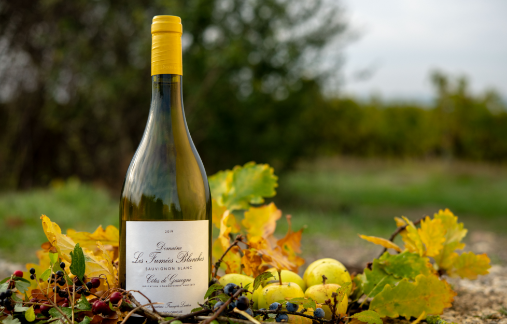 The 2020 vintage was characterised by very early development and various climatic challenges.
The mild and dry winter promoted very early budding on the vines, and a heightened sensitivity to frost in early March. The impact of the frost was largely underestimated as it was not particularly visible, but at the point of harvest, the early-ripening grape varieties (Chardonnay, Colombard) showed production levels down around 30%.
The growth period from April to June was marked by hot and damp weather conducive to disease, which required meticulous monitoring in the vineyards. As the estate is organically run, this called for treatments in low but extremely regular doses to protect the vines between each episode of rain. Some mildew-related damage was noted on the sensitive grape varieties such as Merlot.
The hot, dry summer accentuated this early development and resulted in scalding in some areas and on the Gros Manseng, a very sensitive grape. To avert this risk, some of the grass cover was removed in late June, and pruning and leaf thinning were kept to a minimum.
In mid-August, hailstorms affected part of Gascony and brought welcome rainfall to other areas and Domaine Les Fumées Blanches (70 mm of water). This enabled the Sauvignon Blanc to ripen smoothly.
The Sauvignon Blanc harvests began on 24/08/2020 in sunny weather, the earliest date in the history of Domaine Les Fumées Blanches. In mid-September, extreme heat caused slight withering in grape varieties such as Colombard and Gros Manseng, and reductions in volume. Production in Gascony was in line with the average of previous years, boosted by Sauvignon Blanc and reduced by Colombard. In Gascony, Sauvignon Blanc was the grape variety best suited to this year's conditions, and fortunately it was spared each new challenge: too late for the frost, not sensitive enough to mildew, harvested before the September heat, and benefiting from the rainfall in mid-August. The grapes were harvested healthy and at perfect ripeness, enabling us to make an intense Sauvignon Blanc with complex notes of mint, lemon and lychee, full and rich on the palate with lively acidity and a beautifully lingering finish.
We hope that this report will be useful to you.